Indian Diet Chart For Weight Loss in 7 Days
Weight loss is the topmost health issue people are discussing everywhere the most these days. As being overweight or obese invites a lot of health issues and medical conditions, it is becoming very important to have the correct bodyweight and correct BMI. With upcoming researches and experimental methods or with people's experience-based facts, there are a lot of diets and methods to lose weight.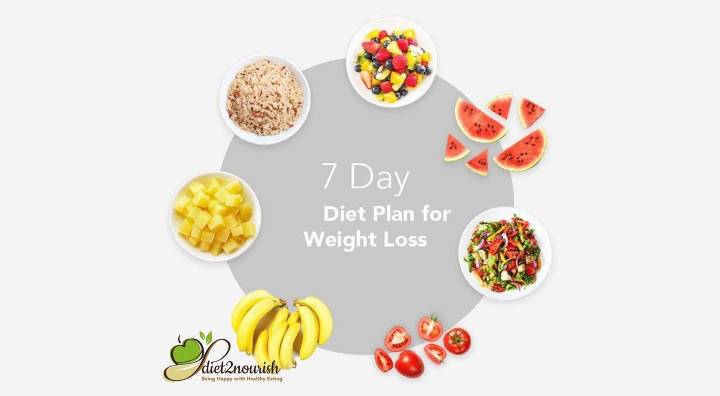 A lot of companies and brands are also offering some good products claiming that these will help you lose weight. But the fact is a good healthy and balanced diet should be the only solution for any kind of weight loss. A healthy and balanced diet will not cause you to gain more weight. Eating food does not cause weight gain. Eating wrong food in wrong proportion, at the wrong time with the wrong combination of food, and with very little or no physical activity. Starvation or cutting down on most of the healthy foods may show that you are losing weight but it is causing issues inside of your body. With this method, you may also lose some healthy nutrients from the body. These new methods and techniques to losing weight include a lot of basic Indian foods in the restriction list. Some of these foods are the basic staple food for most of the population yet. If they give up on these foods they lose weight but it is difficult to manage such type of diet. So for the Indian fat-burning diet, people need such a diet in which they can maintain their staple food intake, their food habits, as well as, lose weight. If you are looking for the best diet for weight loss, your search is leading you to a great place to get the best diet plan for weight loss.
Here is a great diet programs designed by the Best Dietician in Delhi, Priyanka Jaiswal chart for weight loss for male and female:
Start your day with some early morning detox drinks. You can simply start with lemon water. Just add half lemon in one glass of water and drink. You no need to add honey into it or even warm this water if it is summer.
Eat your breakfast on time. We need our best energy food in the morning, so do not skip your breakfast even if you are in hurry. Just look for easy-to-grab foods for breakfast.
The fruit is the best food source to provide you a lot of healthy vitamins, minerals, and antioxidants. So eat your fruits as a healthy snack in between your main meals.
Water intake for a person depends upon your body weight and age, So drink as much as water you can drink throughout the day instead of drinking much water in one go.
There is a reason that some vegetables we cook before we eat and some we eat as raw. Our seasonal vegetables have some of the Best vegetables for weight loss. So the point is to eat a lot of vegetables both cooked and raw.
Last but not least of your dinner. You need really to have an early dinner if you wish to lose weight. Eat a light and healthy dinner, rich in protein and fiber early. This will help to balance your calories for you to go to sleep.
With these tips and points, you can while keeping your intake normal and you can also manage your normal work routine. Of course, you may need to have a personalized diet plan as per your health and body needs if you want to achieve your health goal in a standard time. You can connect with an expert who can create a customized plan for you to achieve your health goal of weight loss.
About Diet2Nourish
Diet2Nourish is a Diet clinic, where you can find the best ways to deal with your health and medical issues. Under the supervision of our best dietician in Delhi, you will not only lose your weight but will also learn how to empoweryourself in making positive lifestyle changes.Our healthcare plan will be based on healthy eating. We provide betterment in your health without any starvation, or products or supplements. Start your health journey today by joining the best nutritionist of Delhi.
Get 1 Week Extra Diet

Connect me Today
Get in Touch
A-28 Sunlight Colony-2,
DDA Flats Ashram, New Delhi 110014
Follow Us